Window Cleaning Rain Guarantee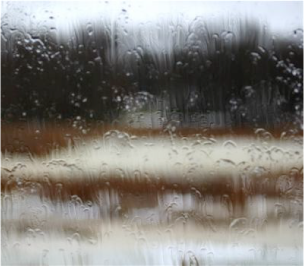 Most residential services come with a rain guarantee! Choose a package with a 3, 5, or ultra long 7 day rain guarantee and we will return at no charge to touch-up rain spotted windows if you give us a call within the guarantee period.
With our guarantee you can rest easy knowing Clearco Window Cleaning will leave your windows with a sparkle even after the rain. In addition, if you wish to move your original service due to forecast rain storms just let us know and we can move your appointment to a better day for you at no charge.
There's More To Know About The Rain and Your Windows!
Most of the time, we recommend keeping your scheduled service, even if there is rain in the forecast. This is because of a well misunderstood fact about rain and windows. Rain water doesn't make clean glass dirty! Rain water is nothing like the tap water from your hose, sprinkler, or pool. Rain is pure water, void of dissolved solids. Therefore, when a drop of rain water touches a very clean window it leaves nothing behind when it dries. It leaves no marks. This is different than rain contacting a window that has not been cleaned for weeks or months that has accumulated dirt and dust. Most average or light rainfall will not even leave a noticeable difference behind on your freshly cleaned windows after they are dry.
We do recommend rescheduling your appointment if the rain is coupled with very windy and dusty conditions or if the rain is heavy enough to make for miserable outdoor working conditions.